Updated Fishing Reports - Salmon River, Pulaski Ny
October 5, 2014
Salmon fishing on the Salmon River has been very tough for us drift boat guides. We have been struggling to put fish in the boat. The water levels are a low 350cfs. Being stuck floating upper river has hurt our success rates. The lower river has been getting a blasts of fish as the fish make it up top hopefully out luck will change. We stuck it out on the lake as long as we could but last Wednesday was my last charter for 2014. We actually had been going ok off the river mouth the days prior to that. But all good things must come to an end and now it's been a struggle on the river. Hopefully the run will end up in the top end soon!
Some more rain would help out big time so please do a rain dance for us.
Either call - email or message us on Facebook.
Thanks,
Salmon River Guide
Shane & Jaclyn Thomas
September 23, 2014
Salmon fishing has been tough all over- the Salmon River has been the worse I've seen for this late in September in many years. Lake Ontario is still producing a few salmon each trip by no means are we doing well. The night fishing at the river mouth has been the best bet as of late. The guys willing to give up some sleep are getting best action of any of the options for this time in the season. We expect more movement in the river soon but everything seems 2-3 weeks behind still. With some luck a good load of fish will show up and it will be on fire soon! As for now it's still fishing and the last few seasons were outstanding so now it looks like it'll be one of those so-so years. We caught plenty out on the open lake most of the summer. Next season if there's any question about river fishing book a summer charter we can show you what nice silver good eating fish are really like Thanks for checking us out!
Either call - email or message us on Facebook.
Thanks,
Salmon River Guide
Shane & Jaclyn Thomas
More information on Lake Ontario Fishing Charters
Pictures of the week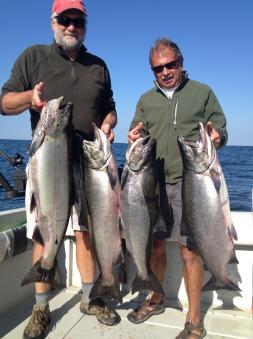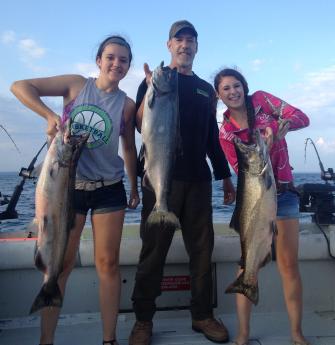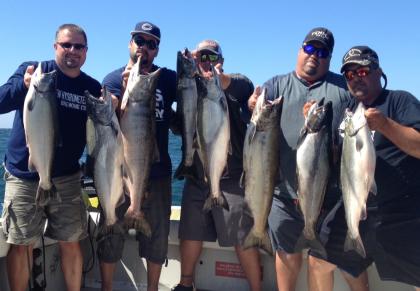 For more information on how to book a trip. (315) 298-4530
PAST FISHING REPORTS
September 4, 2014
Salmon fishing on Eastern Lake has turned on big time! Good numbers of king and coho salmon are staging up a few miles off the Salmon River. Of course there has been some concern over the numbers of kings returning this season but I assure it is all for nothing. The run is just running behind a few weeks and there are plenty - I mean plenty on the way! That said I still believe the Salmon River to see small pods moving in steadily all month. No really major runs for a few more weeks. Of course come late September that will change when these fish are ready to go. It has been a year where the fish have been slow to mature thus they showed up a few weeks late. I fully expect several more very productive weeks of deep water trolling on Lake Ontario. Along with some decent inshore fishing in the shallow waters just off the Salmon River. We still have guides and charters available, we would love to help you out getting a fishing trip set up for you.
Thanks for checking us out!
Either call - email or message us on Facebook.
Thanks,
Salmon River Guide
Shane & Jaclyn Thomas
August 17, 2014
Salmon fishing on Lake Ontario has been hit or miss lately. The kings have been scattered and uncooperative for awhile now. Lake trout fishing has picked up the slack. They have been hungry and eager to please. Lots of big trout too,
10-12 pounders have been common. Some pushing 20 pounds have been welcomed aboard. The weather has been wreaking havoc on Lake Ontario trollers. We've had almost a week steady of big seas keeping us on the side lines for the most part. The good news is the wind brings the salmon back to our end of the lake. The last few days has seen a gradual improvement in the salmon fishing. The fish are hanging out in 200-300 feet of water. Chilling down a cool 130-160 feet. The usual green glow e chip flasher and the green crinkle glow flies have been best. The stinger glow alewife pattern has been the spoon of choice. There no numbers of salmon in the Salmon River yet. If I were to make a prediction I would say it looks like the run will be on the later side this season. The fish seem to have a ways to go before maturing from what I have seen of fish we have caught. We still have plenty of openings for summer charters and fall river drift boat trips. Get us your dates we would be happy to help you out!
We have several cabins that will be available to rent by mid September.
So now we are providing lodging as well as charters and drift boat trips.
Thanks for checking us out!
Either call - email or message us on Facebook.
Thanks,
Salmon River Guide
Shane & Jaclyn Thomas
July 22, 2014
King salmon are showing up on Eastern Lake Ontario in good numbers. Trollers are catching salmon in 100-300' straight off the Salmon River and points north to the Sandy Creeks. The usual green glows chips n fly combos have been hot in the early am then silver flashy colors once the sun gets up. Lake trout and brown trout have been a good plan B for the days the kings are stubborn. Loads and loads of bait fish have been hanging out on our end of Lake Ontario all season. The kings salmon & trout have had backed stomachs, it's almost surprising they still bite at all. There has plenty of openings still available through the rest of summer and if we can not take you out we can get one of our friends to take you.
Either call - email or message us on Facebook.

July 10, 2014
King salmon are showing up in the eastern basin of Lake Ontario. Decent action on good sized chinooks is always a pleasure to report. Straight off the Salmon River 6 to 7 miles in 150-200' seems to be the spot. The usual green glow flashers and green glow flies are doing the best for us.
The weather has been sketchy lately with crazy thunderstorms and heavy winds.
This is what mostly likely caused the influx of salmon to our side of Lake Ontario. So while the weather is seen as bad for some it's a blessing for others. I personally believe the rough weather helped scatter the bait, thus making the kings have to hunt harder for their forage. August, September and October dates are getting jammed up - if you want a trip that's prime time so get it booked soon!
Salmon season does not start in September or October it's starts now!
We have plenty of dates this month-
Salmon are in their absolute prime right now- the best eating fish of the season come in July and August from the deep water on Lake Ontario- that is a fact!
Either call - email or message us on Facebook.

June 18, 2014
Fishing on Lake Ontario has been up and down lately. Lake trout and steelheads have been making up the majority of action but we have been taking the occasional king salmon as well. The better fishing has been over the deeper water 200-300 feet west of the Salmon River. Black and silver UV spoons are doing the best on coppers and lead cores. A few fish are coming off the down riggers 25-45' down. As conditions stabilize the fishing will be more and more consistent. We still have plenty of dates open for the rest of summer.
Either call - email or message us on Facebook.
May 27, 2014
Trolling Lake Ontario has been producing some nice king salmon by day and big walleyes by night. Oneida Lake is on fire for walleyes. We been doing a few trips here and there keeping us pretty busy. There's plenty of good fishing opportunities all around the area. We have dates open through the summer for charters and judging by the start of our season it's gonna be hot fishing this summer! Fall salmon dates are filling up so get in touch with us ASAP to book -prime time books up fast.
Either call - email or message us on Facebook.
April 21, 2014
Steelhead fishing on the Salmon River has been so-so. Below average fishing for late April. Water levels have been very high for a few weeks but are settling down gradually. And slowly the fishing has been improving. It is going to get very good as the post spawn steelheads start to drop down out of the hatchery and upper river. The steelhead fishing will be very good well into May this year. We have plenty of open dates still, there is at least another good month of chasing steelheads in the Salmon River. Water levels are 2250cfs.
Brown trout fishing has been smoking hot! Trollers are catching good numbers of small to medium size brown trout along the shallow shore line of Lake Ontario.
Walleye season open up the first Saturday of May. The better walleye fishing will be in June this year. The water is very cold and the spawn is way behind.
Either call - email or message us on Facebook.

April 2, 2014
Steelhead fishing on the Salmon River has been decent. We are working for the fish but most days have been consistent 10-12 hook ups with about 500 batting average. A few days a week have been slightly better but maybe one day a little worse. You know typical early spring steelhead fishing on the Salmon River. Oh there are excuses like crowds, cold weather and the usual water level thing but you know what excuses are like? It is what it is and we have had a lot of fun trying. The water levels have been and will be increasing a lot over the next week.
I fully believe it will be going really big very soon. It is at 1200cfs at the dam but with run off it over 1600cfs @ the Pineville gauge. Warmer weather and rain is forecasted for late week so this may cause a rapid flow increase.
I like higher water but if it blows out we all lose a few days fishing the river. It is just the way it is in the spring after a tough snowy winter.
We still have guides available though out April and early May for steelhead fishing off drift boats on the Salmon River. With the higher water it's the best option for safety and success.
Either call - email or message us on Facebook.

For more reports visit our archives
Check out our newest addition - FishingChartersLakeOntario.com
Links

For more information on how to book a trip. (315) 298-4530
Jackie and Shane Thomas